Graham Revitalization Economic Action Team
Committee Reports - May 17, 2018
Education and Workforce Development Committee
Solar Energy Grant - Graham County Schools has received a grant for $20,000 in partnership with NC Green Power and Duke Energy. This grant will provide a 4-5 kilowatt panel that will be installed on school property in a prominent location. The panel will provide energy to offset the school's power use, saving both energy and money. The grant announcement was made on Monday, May 14th in the RHS auditorium. Representatives from both NC Green Power and Duke Energy attended the presentation.
Millcreek House – RHS Carpentry students are putting the finishing touches on House #3 located on Pate Cooper Road off of Mill Creek Circle. An open house is tentatively scheduled at the beginning of the 2018-2019 school year.
Dolly Parton Imagination Library – Over 30 new children were registered for the DPIL program at the Fall Festival.
o 197 currently registered
o 584 graduated
o 781 served
Tourism and Mountain Culture Committee
Wayfinding Signage Project – The committee has submitted a proposal to the Appalachian Regional Commission that will provide high quality and quantity of signage directing residents and tourists to attractions, points of interest and local businesses to enhance the tourism economy in Graham County and its towns. In addition, the project has a downtown WiFi component, a Buy Local Campaign and an online marketing initiative. This is a collaborative effort with NC Department of Commerce, NC Department of Transportation and Graham County agencies.
GREAT Health and Social Committee Report
Nourishing Food Grant – A $2,000 grant provided Marshall University to provide vouchers for vegetables and fruit grown at Robbinsville's Stoney Hollow Farm to needy families. The County Health Department and the Graham Food Distribution Association will distribute vouchers during July – October, 2018.
Robbinsville Wayfinding Project – Collaboration with the Town of Robbinsville, GREAT and Mountain Wise has resulted in a $10,000 grant to develop and install wayfinding signs around the town to encourage walking and physical activity.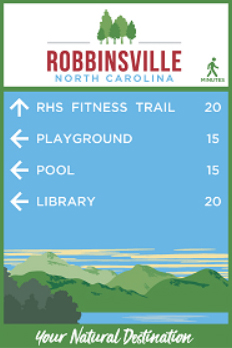 Revitalization and Infrastructure Committee
Region A Broadband Initiative – The Southwestern Commission has completed the Region A Broadband Assessment that provides a regional analysis of broadband needs. Data collected in this survey will provide valuable information to the Southwestern Commission and Region A Broadband committees as well as to state and local partners working towards broadband and economic development planning for the region.
GREAT NC Broadband Committee – GREAT has submitted a proposal to the Appalachian Regional Commission (ARC) for increased internet service to underserved areas in our county.
Natural Resources, Recreation and Water Quality Committee
Deep Gap Project – A collaborative workday with Mainspring's Stewardship Volunteers and GREAT's Natural Resources, Recreation, and Water Quality was held on May 3rd to do some cleanup work at Mainspring's new 117-acre Deep Gap property in Graham County. The property was donated to Mainspring in December with plans to market it to a conservation buyer. Mainspring has been working the past two years with GREAT on a stream restoration and education project at Robbinsville High School, which GREAT volunteers have helped with, but this was the first time both volunteer groups have combined forces. Together the volunteers cleared overgrown vegetation around a number of buildings and animal pens, cleared trails, and reestablished a storage building that was off its foundation. The property is now ready for showing! A big thank you to the following:
o Mainspring volunteers: Susan Coe, Ed Haight, George Kaye, Elena Marsh, Tom Marsh, Charlee Tisdale
o GREAT volunteers: Jim Baker, Rick Davis, Katy Lynch, Mike Carton
o Mainspring staff: Dennis Desmond and Kelder Monar.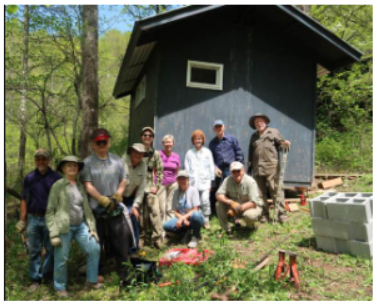 Hooper Bald Workday – GREAT volunteers teamed up with the Partners of Joyce Kilmer Slickrock Wilderness, the USFS Forest Service and members of the community to work on the trail leading to the Hooper Bald azaleas in preparation for the First Annual Flame Azalea Festival. The volunteers established more water break sections, cleared the trail of growth and debris and to moved gravel onto the trail. Thanks to everyone who came out and helped.