Graham Revitalization Economic Action Team
Committee Reports - September 20, 2018
Education and Workforce Development Committee
CCLC Grant – Graham County Schools has received a 21st Century Community Learning Center (CCLC) grant for afterschool and summer school for elementary and middle schoolers. Funding for three sites – Robbinsville Elementary, Robbinsville Middle and Stecoah Valley Center. Grant is worth $1.2 million dollars over 3 years.

Millcreek House – RHS Carpentry class had Open House activities for house #3 located on Pate Cooper Road off of Mill Creek Circle on Monday, September 17th. The house will be put on the market soon.

Dolly Parton Imagination Library – There are 218 Graham County children currently enrolled in the program

School Counselor Funding – Graham County Schools has received a $67,000 grant for an additional school counselor at the elementary school to work closely with students with intense mental health needs.

AmeriCorps Volunteers – Graham County Schools is working with AmeriCorps to employ one member at each school to build positive relationships with students and provide enhanced educational opportunities.

Football Stadium Renovations - Graham County Schools is partnering with Eastern Band of Cherokee Indians and local business Lovin Contracting to provide renovations to the football stadium, particularly adding handicapped accessibility, new visitor stands, new PA system and upgrades to the field fence.

Telemedicine Project – A partnership with Park Ridge Health to provide Telemedicine services to all students PK-12. This will keep our students in class and on campus for medical services and keep parents from missing work to take students elsewhere for medical services.

Big Brothers Big Sisters - The Graham County Big Brother Big Sister Program will be having a "Bowl for Kid's Sake" bowling tournament fundraiser on Nov. 10 from 10 am-2 pm at Harrah's Cherokee Casino. Please contact Karen Mickler or Katrina Nelms for more information. We need several more teams!!

School Bridge Project - NCDOT is making tremendous progress on the secondary access road on the campus of Robbinsville Middle/High School. Project completion is slated for late Spring 2019 however, projections are that the project will be completed ahead of schedule.

Staff Wellness Program - Partnership with Harris Regional Hospital to initiate a comprehensive Staff Wellness Program with monthly goals and activities for all staff.
Tourism and Mountain Culture Committee
Strategic Tourism Plan Implementation - Phase II – The committee has received a $100,000 award from the Appalachian Regional Commission to continue implementation of the Strategic Tourism Plan. The project will provide high quality and quantity of signage directing residents and tourists to attractions, points of interest and local businesses to enhance the tourism economy in Graham County and its towns. In addition, the project has a downtown WiFi component, a Buy Local Campaign and an online marketing initiative. This is a collaborative effort with NC Department of Commerce, NC Department of Transportation and Graham County agencies.
GREAT Health and Social Committee Report
Nourishing Food Grant – A $2,000 grant provided by Marshall University to provide vouchers for vegetables and fruit grown at Robbinsville's Stoney Hollow Farm to needy families. The County Health Department and the Graham Food Distribution Association will distribute vouchers during July – October, 2018.

Robbinsville Wayfinding Project – The project has been completed with the installation of wayfinding signs around the town to encourage walking and physical activity. This project was a collaborative effort with the Town of Robbinsville, GREAT and MountainWise.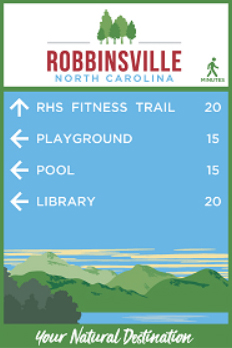 Revitalization and Infrastructure Committee
Graham County Broadband Project – GREAT is waiting on final confirmation of a $100,000 from the Appalachian Regional Commission (ARC) for increased internet service to underserved areas in our county.
Natural Resources, Recreation and Water Quality Committee
RHS Sweetwater Creek Project-Phase III – Notification has been received of a $16,500 grant from Cherokee Preservation Foundation for continuation of a restoration plan involving exotic plant control, native plant establishment, rivercane management and biological monitoring of Sweetwater Creek. The project involves the RHS Earth Science and Biology classes.