Many individuals and civic organizations of Graham County have a history of great service to our community. During the 1972 Graham County Centennial, the sponsorship of these groups helped to bring about a most successful celebration.
---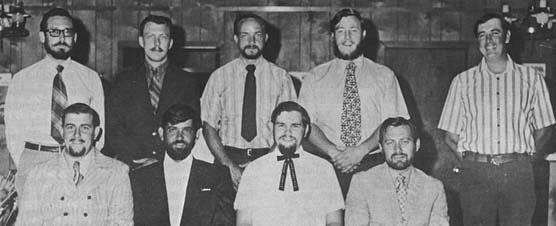 Robbinsville Jaycees, 1972
Front: Justin Jones, Homer Colvard, Marvin Mullinax, JackBrown Wiggins. Back: James Cameron, Francis Williams, Eugene McMonigle, Ira Rogers, Gerald Orr
---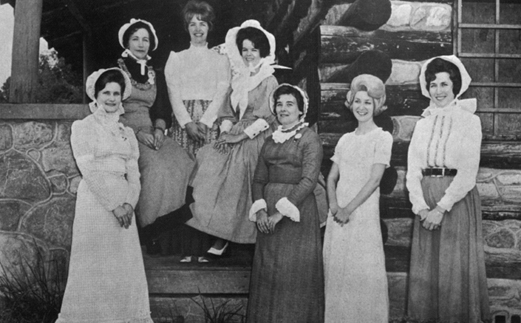 Wachovia Bank Employees, 1972
Sue Lewis, Peggy Ford, Vivian Orr, Judy Phillips, Pat Ingram, Sandra Smith, Louise Orr
---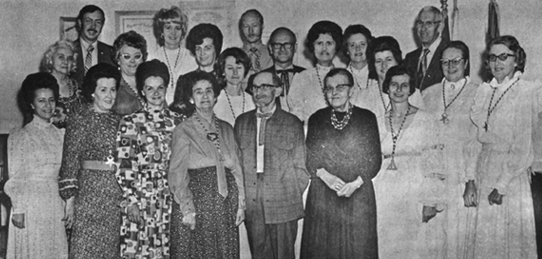 Eastern Star, 1972
Front: Mary Ruth Shuler, Gladys Crisp, Mildred Jordan, Mamie Carpenter, Tommy Wilson, Millie Wilson, Faye Stewart, Vergie Phillips, Opal Long. Back: Mary Green, Richard Stewart, Reba Jordan, Jack Deyton, Wayne Carringer, Zora Slagle, Nettie Long, Flo Deyton, Floyd Crisp
---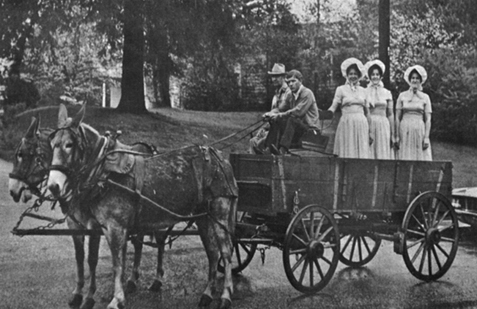 Tom Moose, Earl Moose, Merle Walters, Hilma Keever, and Flossie Wilson
---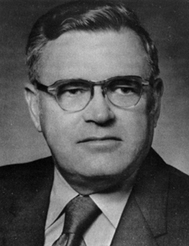 J. Smith Howell, President of the Graham County Industrial Development Corporation
---
THE GRAHAM COUNTY WOMAN'S CLUB
The Graham County Woman's Club was organized in April 1928, at the home of Miss Belle Slaughter by Mrs. S. W. Black of Bryson City, district president of federated clubs in North Carolina. This was the first civic organization for women in Graham County. The first President was Mrs. R. B. Slaughter; Vice President was not known; Secretary and Treasurer, Mrs. W. F. Colvard. Charter members were Miss Belle Slaughter, Mrs. R. B. Slaughter, Mrs. Mamie Moody Hooper, Miss Ada Moody, Mrs. Bonnie Moody Parson, Mrs. Verlie Maxwell, Mrs., Belle Colvard Martin' Mrs. W. F. Colvard, Mrs. L. A. Dindinger, Mrs. Lawrence Bemis and Mrs. Walt Wiggins.
Through the years we worked on many projects that would make our town and country a better place in which to live. Our first endeavor was a beautification program on the courthouse square. Under the supervision of Mrs. Dindinger, flowering shrubs and beds of tulips were planted. This courthouse was later torn down and replaced by the present one. Our most important achievement was the part we played in getting a library started in Robbinsville. All along we talked of the possibility of getting this done. But it seemed hopeless as we had no place to house a library and no money, but we kept on talking and hoping and finally a way was opened up for us. We were notified, in a letter from John B. Veach, an official of Bemis Lumber Company, that we could have a small building for use as a library. We would have to move it to another location. It was about fifty years old and had been used as a store, a lawyer's office, a doctor's office and various other things. In 1938 the boys who worked in the N. Y. A. youth program, under the supervision of W. C. Siler, moved the building to the site of the present library. It has stood on the opposite corner of the same lot. The club was responsible for the upkeep of the library, giving it their financial and moral support. Sometimes we didn't know where the money would come from to coal, mend windows and doors, but somehow we managed to pay the bills. Once a windstorm tore off the tarpaper roof and something had to be done. With a lot of good help from friends of the library, our books were in the dry again. Most of the books were gifts from citizens of the town and county. Also Mrs. Lawrence Bemis of Oil City, Pa made a large donation of good books. She was a former member of the club. Helen Siler Huskey was the first librarian. Thus the first library in Graham County was opened in 1939. Soon afterwards the Educational T.V.A. began circulating material for their employees at Hiawassee and Fontana Dams. A bookmobile was operated in Cherokee, Swain, and Graham counties and our library became a lending library to help in the circulation of books left by the bookmobile. It served the people of the county until 1952 when it was torn down and replaced by a new library built as a memorial to the H. C. Bemis family. It was dedicated April 6, 1953. Our club continued to support this library with cash payments each year for fuel until a few years ago when it was no longer needed, due to an increase in appropriations by the N.C. Legislature. We still donate time and money when the need arises and work to keep the grounds attractive. Mrs. F. S. Griffin donated the boxwood plants.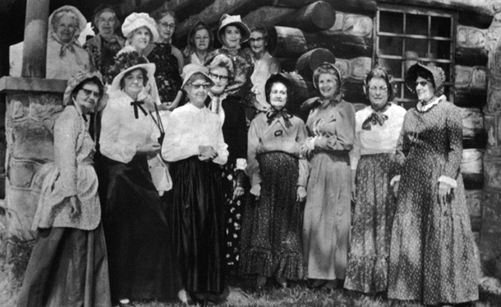 Graham County Women's Club, 1972
Front: Mrs. Tilman Orr, Mrs. Wayne Carringer, Mrs Shade McIntosh, Mrs. Pearlie Lovin, Mrs. Will Carpenter, Mrs. Will Snider, Mrs. Floyd Griffen, Mrs. Jake Orr. Back: Mrs. Ed Ingram, Mrs. Cordell Russell, Mrs. Gwyn Denton, Mrs. Walt Wiggins, Mrs. John Hall, Miss Ada Moody, Mrs. Bob Humes.
---
HISTORY OF THE AGAYAH CIVIC CLUB, March 1949-1972
by Allene Campbell and Ruby Nell George
In March 1949, under the guidance of the Graham County Senior Woman's Club, the first Junior Woman's Club ever known in Robbinsville was organized and federated. The club was formed with 22 members with Mrs. Tommie Jenkins being elected first president, Stella Eller Long as vice-president, and Allene Campbell as secretary and treasurer. The other nineteen members were: Helen Brock, Ruby Nell George, Blanche Ghormley, Louise Gibson, Evelyn Grunder, Pauline Harrington, Ruth Hooper Smith, Mildred Humes Blevins, Fanny Hyde, Ruby Kimsey Cody, Clairene Phillips Lynn, Louise Miller, June Smith Farley, Alene Hooper, Helen Stewart Mashburn, Mildred Patterson, Lucille Mulkey Davis, Mozelle Postell, and Christine Haney. Of the original members only two remain in the club and have been active for 23 years. They are Allene Campbell and Ruby Nell George.
At a special meeting on March 29, 1949, the members signed the Constitution and By-laws and became a member of the North Carolina Federation of Woman's Club and the General Federation of Women. The object of this organization was to unite the women of Graham County into an organization for the promotion of Civic, Cultural, Educational, and Social Betterment. The club chose the name Junior Woman's Club and decided to meet every 1st Monday of the month at "The Hut." In June 1954 by a vote of membership the name was changed to the Agayah Civic Club that means "Young Woman" in the Cherokee Indian language.
Through the first year of 1949-50 the Junior Women did accomplish some of their aims and goals. Most members received much personal gain in the social relationship and community improvements they had undertaken. One of the very first projects was helping with the Red Cross Blood Bank Program and this project continued year after year until 1971 when the Blood Mobile Unit discontinued its visits to Graham County. Other projects started were a nursery school held on Sunday morning and a community recreation center both held in the "Hut." The nursery school did not prove to be a success as no one showed any interest in it. The recreation center was more successful and this was continued during the summer for several months. Several of the women were leaders of Girl Scout troops and as a club have always sponsored a Girl Scout troop when they are active in the community. During the first years, one of the profitable projects was the production of a play called "Its a Date." This raised two hundred and fifty dollars. Members and their husbands made up the cast with some outside help. Other productions were the minstrels, the play "Hobgoblin House" and the talent shows that were very successful.
The Agayah Club has always maintained six different departments. These are Home Life, Education, International Affairs, Fine Arts, Public Affairs and Conservation. A chairman and two other members make up the committee for each department. Programs and projects under each department are carried out during the year. Every year the club has received a certificate of honor at the District I Annual Fall meetings for being a 100% Honor Roll Club. In order to accomplish this, 100 points or more has to be obtained on the yearly rating sheet which the President of the club has to complete and send to State Headquarters in Raleigh, North Carolina by January 15th of each year. The District I President receives a copy and all 100% clubs are recognized at the fall meetings each year from Canton to Murphy. Agayah Club was host club for the District I meeting during the fall of 1971 at Thunderbird Mountain Lodge. The State President, Mrs. Paul Keller of Smithfield, North Carolina was guest speaker at this event. Yearbooks are judged at this time and the Agayah Club won a blue ribbon for the 1971 yearbook, as has been the case in years past. These books have to meet certain regulations and contain certain information and have attractive covers. The Club prints their own books using the talents of members, especially the artistic ability of different ones for the covers. These have been varied and beautiful over the years with the state colors of blue and white; state bird, the cardinal; state flower, the dogwood and the silhouette of a young Indian woman signifying the name of the club with the Cherokee Indian word Agayah meaning woman being used quite successfully.
Throughout the years the Agayah Club has been known for its "helping hand." Special recognition over the years for work accomplished in community improvement projects and contributions to CARE has been received through citation certificates. Two members have been honored as "Outstanding Young Women of America." They were Shirley Kennedy and Kay Davis. Interesting programs at the monthly meetings and worthy projects year after year have been a trademark. In 1953 the Polio Drive, under the leadership of Dr. Nettie Parrette and Mrs. Oleta Wilson proved to be the most successful drive ever in the history of the club. $3,991.14 was raised for this worthy cause. In 1963 the club, with help from the Rescue Squads, sponsored a mass polio immunization for the entire county. Approximately $2000.00 was realized from this endeavor with most of the proceeds going to the Rescue Squads to help purchase ambulances for the County. In order to have money to help so many worthwhile causes the "Ways and Means" chairman was always busy. Some of the most profitable projects were the annual Radio Day held each year at the radio station WCVP in Murphy, North Carolina and the food booth at the countywide land auction sale in 1971. Contributions to the following has been the practice of the club almost from the beginning: Scholarship for a High School Senior, Endowment fund, Boys Home, Help-A-Home, High School Annual, Children's Home Society, Western Carolina Center for the mentally ill, Rescue Squad, Ten-Penny Art Fund, Birthday Remembrance, Bemis Memorial Library, 4-H Leadership Camps, and CARE.
Past Presidents Year In Office: Mrs. Tommy Jenkins 1949-50; Mrs. Blanche Ghormley 1950-51; Mrs. Woodrow Rogers 1951-52; Mrs. Oleta Wilson 1952-53; Mrs. Smith Howell 1953-54; Mrs. Allene Campbell 1954-55; Mrs. Louise Lee 1955-56; Mrs. Blanche Ghormley 1956-57; Dr. Nettie Parrette 1957-58; Mrs. Lynn Dawson 1958-59; Mrs. Oleta Wilson 1959-60; Mrs. Mildred Humes Blevins 1960-61; Mrs. Ruby Nell George 1961-62; Mrs. Louise Lee 1962-63; Mrs. Dorothy Cherry 1963-64; Mrs. Judy Gillespie 1964-65; Mrs. Martha Rogers 1965-66; Miss Martha Parks 1966; Mrs. Francis Carver 1967; Mrs. Shirley Kennedy 1968; Mrs. Jimmie Holder 1969; Mrs. Ruby Nell George 1970; Mrs. Christine Corpening 1971; Mrs. LaVina West 1972.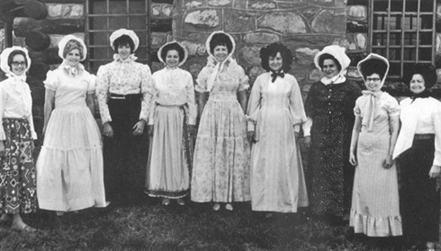 1972 Agayah Club, left to right: Marvene Dula, Verna Davis, Maxine West, Delma McCants, Ruby Nell George, Christine Corpening, LaVina West, Allene Campbell, and Carol Jane Crisp.
---
The Graham County Welfare Department was established in 1937 with Mr. M. J. Lynam and Mrs. Lillian Maxwell going from house to house taking applications from Graham County citizens for old age assistance. Mr. Lynam was followed by Glenna Woodard, Corajean Thetford now Mrs. James Barrett, and Mrs. Lura S. Bales. These with a score of competent persons have carried the program through the years. The Department is now known as the Department of Social Services and the present staff is (left to right) Mrs. Christine Corpening, Director; Mrs. Edith Jones, Secretary; Mrs. Lois Jones, Eligibility Specialist; Mrs. Allene Campbell, Secretary; (back row) Mrs. Hyma Cable, Service Worker; Mrs. Ruth Rose, Secretary; Marvin Jenkins, Eligibility Specialist; and Charles Stiles, Service Worker.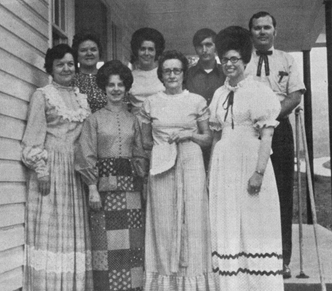 1972 Graham County Department of Social Services
---
AMERICAN LEGION AUXILIARY, ELLER ROGERS UNIT 192
by Lura S. Bales
The Auxiliary was organized in 1946. Lura S. Bales was elected President; Vice President - Ellen Carver; Gladys Jordan, Secretary. A state charter was granted June 7, 1946. The work of the Auxiliary has always been carried on without fanfare. Two district meetings have been held in Robbinsville. Many hours of services have been given to the Veteran's Hospital at Oteen, North Carolina. Many gift packages are sent each year to patients and families of patients.
The Auxiliary is still going strong with (1972) Violet Crisp, President; First Vice President Alta Carver; Second Vice President Beulah Huffman; Treasurer and Secretary Willa Mae Millsaps; Sgt. at Arms, Chaplain Gladys Jordan; Rehabilitation Nellie Rogers; Child Welfare Chairman Christine Corpening; Historian Helen Carver.
| | |
| --- | --- |
| Lura Bales, first president of the American Legion Auxilliary | Violet Crisp, president of the American Legion Auxilliary, 1972 |
---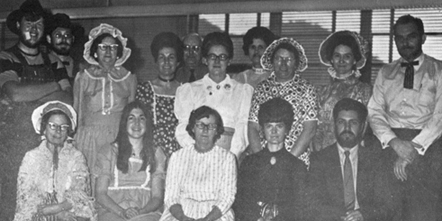 1972 Robbinsville Elementary Staff
Front: Mozelle Postell, Paula Waldroup, Mary Ellen Maxwell, Iris Gregory, Carl Greene. Back: Gary Steppe, James Cameron, Amanda Blankenship, Joyce Jenkins, Blaine Denton, Brenda Millsaps, Frankie Crisp, Zora Slagle, Mary Crisp, Tom Carpenter
---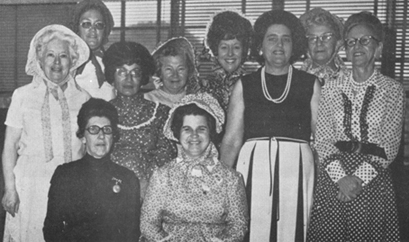 1972 Robbinsville Primary Teachers
Front: Lornazelle Brewer, Nora Turner. Back: Marion Ingram, Marcia Cameron, Teresa Orr, Ruby Cody, Pricilla Phillips, Hazel Millsaps, Winnona Denton, Oleta Wilson
---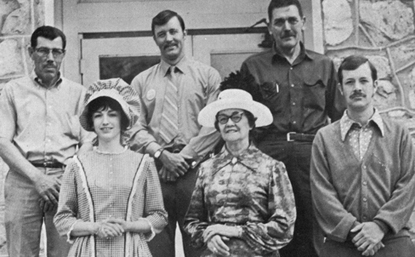 1972 Robbinsville High School Staff
---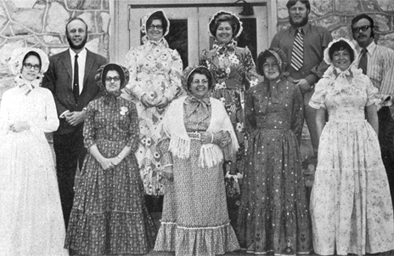 1972 Robbinsville High School Staff
---
Robbinsville Lions Club
Front: Joe Carver, Erwin Cook, Bill Thurman, Wayne McClung, Charles Stiles. Back: Blaine Carver, Sherman West, Adam Greene, Graham Denton, Bob Shade, John Brooks, Wayne Shepard, Raymond Norton.
---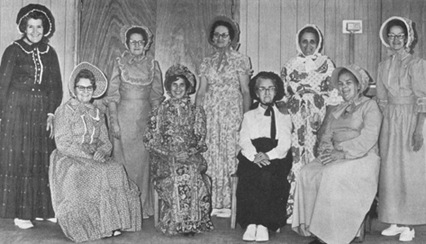 Robbinsville Lunchroom Workers
Nannie Pearl Jordan, Rena M. Lovin, Fannie K. Anderson, Edith V. Deyton, Azalea Matheson, Rebecca C. Shuler, Aloe Crisp, Margaret Williams, Dorothy Phillips
---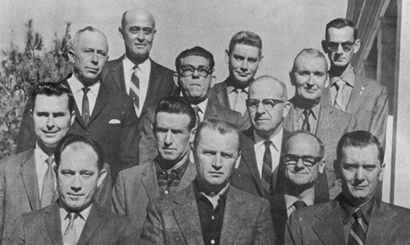 County Officials, 1970
---
Stella Sawyer, Editor of The Graham Star, 1972